Information Technology (or more commonly known as IT) is one of the most popular career choices and the fastest growing industry in the world, but what is it about IT that makes it such a lucrative career choice?
Why choose a career in the ICT sector?
A career in Information Technology (IT) means working in the fastest growing, fastest evolving and possibly one of the most demanding careers out there. Perhaps the biggest reason to work in the technology sector is the work itself. If you're interested in being on the edge of research, discovery, development and innovation, there is likely no better industry to be in.
According to the CSO the information and communications sector is one of the highest paying industries. According to Grad Ireland, a graduate's average starting salary is € 30k. Having a qualification in IT gives you a universal currency to work worldwide.
Dublin – Heart of IT in Europe
In the past ten years Ireland has grown into a global tech hub. According to Grad Ireland, Ireland is seen as the heart of the IT sector in Europe. Dublin specifically, which is home to the European headquarters for Google, Facebook, LinkedIn, Amazon, Twitter and other perhaps less well known but exciting Tech companies like HupSpot, TripAdvisor, Storyful and Workday, to name just a few. According to ICT Ireland, the technology sector in Ireland directly employs over 105,000 people. Below is a small portion of the Dublin Tech map today;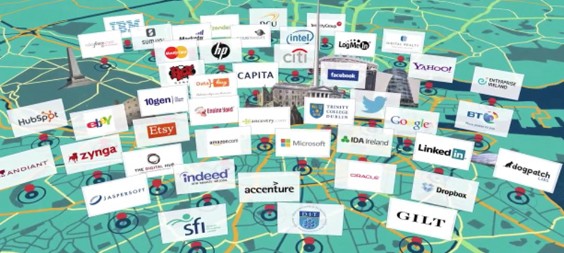 IT professionals in demand   
Recently I have experienced an increase in companies hiring within cloud computing, cyber security, network security and testing to help enhance their current systems. Most positions within IT offer career advancement opportunities for dedicated and hardworking professionals. IT professionals are seen as crucial to any business and so there is a continuous need for graduates from courses such as computer science, networking and business information systems. Further, Brexit is having a positive impact in Dublin with a number of projects and investment prospects flowing into Ireland, which in turn is forecast to propel further job creation.
So how do you get hired in IT?
While Information Technology (IT) jobs are plentiful, specific requirements and skills are needed. Experience is a major factor for companies recruiting new hires. Often, a degree in a computer related subject is not enough, even most junior IT roles require a minimum of 6 months experience.
The best advice for any IT student / graduate is to go out and get an internship in your related area. While you are in college or just after college, apply to as many internship programmes as you can even if they are unpaid, as this will allow you to gain invaluable experience. Lastly, as IT is such a fast changing sector it is crucial to keep up to date with changing technologies, so a genuine passion for IT is a must.
If you are an IT graduate or an IT professional seeking new opportunities please don't hesitate to get in touch. See our latest job opportunities. 
See IDA's infographic on the growth of the ICT sector in Ireland